Ch Draxpark Big Shot (Top Giant 2012) – Frank
Info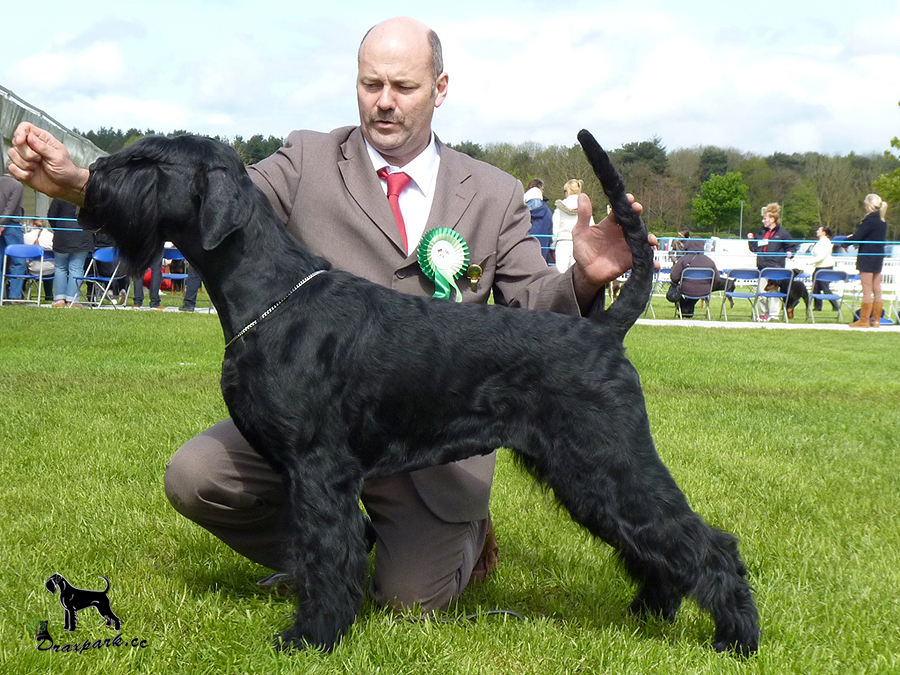 Male
DOB:
07/09/2007
Eye Test:
Unaffected
Hip Score:
5/4=9 (BVA)
Frank is a son of Jet and a very special boy…..he is very vocal and extremely lovable.
He likes to have his 'Mad-Frankie' moments, his favourite trick is to stick his entire head in the water bucket up to his eyes.
His favourite games are chasing birds and waiting for leaves to fall off trees so he can chase them.
He is very strong and sturdy…our knick-name for him is "Chunk". Frank achieved his first Reserve CC at the age of 8 months, and his first CC at 10 months gaining him a stud book number and a life-time entry to Crufts.
He was awarded Pedigree Top Puppy 2008 and also the Giant Schnauzer Club Top Puppy 2008 after winning Best Puppy in Breed 8 times at Championship shows. In October 2009, just after his second birthday Frank gained his 3rd CC and the title of Champion, he is the first Giant Schnauzer with a full tail to become a champion in the UK.
Photos
Pedigree
CH Riesenheim Suited N'Booted for Daleiden
{
CH Jafrak Philippe Olivier
{
CH Luther King Du Bujol
{
CH Stablemaster's Superman
Lilola Du Bujol
CH Jafrak Dolcelata
{
Skansen's Tortellini at Jafrak
Skansen's Quality at Jafrak
Riesenheim Rikki Lake
{
CH Riesenheim Cebreros
{
Donjuan de Pichera at Foxwood
Ferncliffe Violetta of Nenevale
Zamoranos Divina de Riesenheim
{
Donjuan de Pichera at Foxwood
Dona Truchas Jonorde Los Chapulitos
CH Inka Hoots from Foxwood

{
CH Riesenheim Cebreros
{
Donjuan de Pichera at Foxwood
{
Uhlan de Pichera
CH Zarza de Pichera
Ferncliffe Violetta of Nenevale
{
CH Xerox v Buck of Nenevale
Nenevale Mystique at Yacanto
CH Foxwood Business as Usual
{
Donjuan de Pichera at Foxwood
{
Uhlan de Pichera
CH Zarza de Pichera
Foxwood Cosmopolitan
{
CH Xerox v Buck of Nenevale
CH Nenevale Vogue
Show Wins