Ch Draxpark Hot Shot – Tango
Info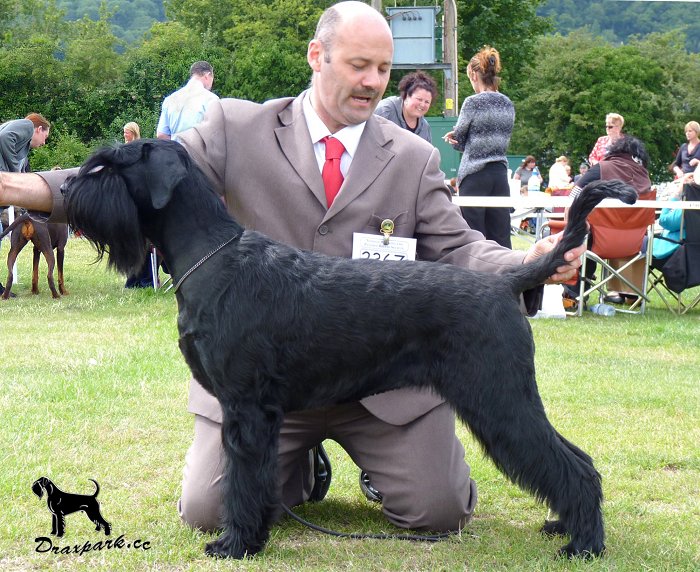 Female
DOB:
07/09/2007
Eye Test:
Unaffected
Hip Score:
5/5=10 (BVA)
Like mother like daughter, Tango is so much like her mum Jet. She is a little Miss mischief and manages to get herself into places she shouldn't be! She is a very affectionate girl, when she wants to go out she comes and barks to let you know, she also gently nibbles your clothes to let you know she wants something or just to let you know she likes you! Her party piece is to bounce up and down in the air on all four paws whilst barking. She loves to play and chase swallows with her brother Frank.
We called her Tango because she was so lively and 'You know when you've been Tango-ed!!'
In 2010 Tango gained x3 CC's and her title of Champion, she is the first Giant Schnauzer bitch with a full tail to become a champion in the UK, the first male being her litter brother Ch Draxpark Big Shot.
Photos
Pedigree
CH Riesenheim Suited N'Booted for Daleiden
{
CH Jafrak Philippe Olivier
{
CH Luther King Du Bujol
{
CH Stablemaster's Superman
Lilola Du Bujol
CH Jafrak Dolcelata
{
Skansen's Tortellini at Jafrak
Skansen's Quality at Jafrak
Riesenheim Rikki Lake
{
CH Riesenheim Cebreros
{
Donjuan de Pichera at Foxwood
Ferncliffe Violetta of Nenevale
Zamoranos Divina de Riesenheim
{
Donjuan de Pichera at Foxwood
Dona Truchas Jonorde Los Chapulitos
CH Inka Hoots from Foxwood

{
CH Riesenheim Cebreros
{
Donjuan de Pichera at Foxwood
{
Uhlan de Pichera
CH Zarza de Pichera
Ferncliffe Violetta of Nenevale
{
CH Xerox v Buck of Nenevale
Nenevale Mystique at Yacanto
CH Foxwood Business as Usual
{
Donjuan de Pichera at Foxwood
{
Uhlan de Pichera
CH Zarza de Pichera
Foxwood Cosmopolitan
{
CH Xerox v Buck of Nenevale
CH Nenevale Vogue
Show Wins