Ch Draxpark I Like To Move It – Zuma
Info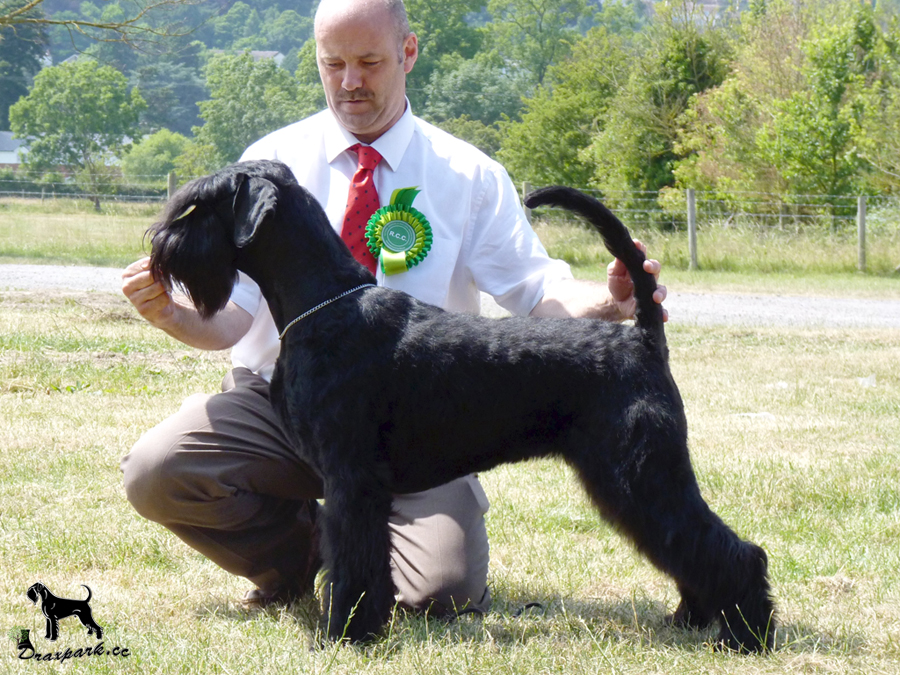 Female
DOB:
04/12/2011
Eye Test:
Unaffected
Hip Score:
4/4=8 (BVA)
Elbow Grade:
0/0=0 (BVA)
Zuma is a very lively and bouncy girl, we called her 'Zuma' because she only really has one speed, and that is zoooooooom. Her Kennel Club name is "I Like to Move It"…..and that is because she does!
Zuma is very intelligent, active and attentive, and as such has been easy to train. Zuma is also very vocal, she definitely lets you know when she wants to go out!  She can almost speak and says ooow owwt
….quite loudly when she wants to go out, also when she goes out in the car as soon as she knows the car has stopped she says she wants to go out. She is a lovely character, also very lovable and loyal, brilliant off lead in different situations.
Zuma was awarded UK Top Giant Schnauzer Puppy 2012, and gained her first CC as a puppy under Schnauzer Breed Specialist judge Mr Len Anness, her second CC from Russian Schnauzer breed specialist judge
Mr Eugene Yerusalimsky, and her third CC & Best of Breed from Finnish and international all-rounder judge Mr Hans Lehtinen, gaining her the title of Champion.
Photos
Pedigree
Bluedanube The Homeland Of Draxpark
{
INT CH Gloris Ivan Ivanovich
{
CH Ziko de Campos de Oro
{
CH Nilo v Bergherbos
CH Carol Del Ninot Del Foc
CH Stablemaster's Special Case
{
CH Friper de Pichera
CH Stablemaster's Electric Lady
Sasvari Nicole (Imp Hun)
{
CH Malya Kabul-N
{
Carlos de Campos de Oro-N
Malya Uxi-N
CH Richesse du Duc la Elzenhagen
{
INT CH Assan vd Rois
CH Sasvari Jessica
CH Draxpark Hot Shot

{
CH Riesenheim Suited N'Booted for Daleiden
{
CH Jafrak Philippe Olivier
{
CH Luther King Du Bujol
CH Jafrak Dolcelata
Riesenheim Rikki Lake
{
CH Riesenheim Cebreros
Zamoranos Divina de Riesenheim
CH Inka Hoots from Foxwood

{
CH Riesenheim Cebreros
{
Donjuan de Pichera at Foxwood
Ferncliffe Violetta of Nenevale
CH Foxwood Business as Usual
{
Donjuan de Pichera at Foxwood
Foxwood Cosmopolitan
Show Wins